Authors Joyce and Jim Lavene are living proof you can have your pie and eat it, too. Writing as Ellie Grant, they've just released their cozy mystery, Plum Deadly, to great reviews. The multi-published Lavenes are meeting the challenges of the fast changing publishing world head on by mixing it up. A little bit of traditional and a little bit of indie, read on to find out their thoughts on the whole process. Then read on a little bit more and meet Ellie Grant and Plum Deadly.
Ebooks: Future or Fad?
By Joyce and Jim Lavene
When our first book, a Silhouette Romance, was published in 1999, there was this little known publishing change going on. People called them ebooks. There were a few ebook publishing companies struggling to make a living. Mostly, writers and readers ignored them.
When we first heard about ebooks, we were thrilled. The possibilities were endless! We looked around for a reputable publisher, and found Awe-Struck Books. It was run by a brother and sister in Iowa. We talked and hit it off. They liked the book we'd written, which had been rejected by several traditional publishing houses. We thought: why not?
So we published Flowers in the Night with Awe-Struck. At that time, Romance Writers of America was accepting ebook authors into the fold. The world seemed poised and waiting for the new medium. Flowers in the Night was nominated for the Frankfurt Book Award that year, and sold very well. We were thrilled.
Then complications came up. The only ebook reader was expensive – more than $200, clumsy and heavy. No one wanted it. At the same time, the tech crash of 2000 changed the landscape of advertising for small businesses on the Internet. The money pool vanished, and the enthusiasm for online publishing went with it. Romance and mystery writing professional groups decided that ebooks were a fad and that the writing wasn't professional enough for their standards.
It looked as though ebooks were doomed. Still, a spark remained, and a few publishers hung in there. The 'fad' continued until a little company, Amazon Books, began to show writers and readers that there was still life in that idea.
Today, ebooks are where we saw their potential in 1999. They are big business for Amazon and other companies. Even traditional publishers are now pushing their own lines that are just ebooks.
And yet, a fan of ours asked just the other day; "Are you going to publish that book as a REAL book, or just an ebook?"
Perceptions are slow to change, and the recent glut of ebooks on the market which haven't been edited, hasn't helped. Readers have become wary. Some have shied away. Unedited ebooks have also made the big, professional writing groups stand their ground on keeping non-print published writers out of their hallowed halls and conferences.
Only time will tell if the ebook market continues to grow or if they are just the fad they were predicted to be.
We have enjoyed being what has become known as 'hybrid' authors – publishing books with traditional houses and writing ebooks we publish ourselves. Ebooks have spread our name to tiny corners of the earth and have afforded us a more comfortable lifestyle so that we can write fiction full-time now.
All in all, everything we had imagined they would be. Not a bad for a fad, huh?
And now a quick look at
Plum Deadly
Unjustly accused of cooking the books, Maggie Grady is forced to retreat from her high-flying New York financial career to the town where she grew up. Her aunt Clara greets her with open arms and a job at the family-owned business that has baked the best pies in the South for over forty years. Unfortunately, while Maggie is determined to return to banking, her reputation there seems permanently in the pits. That is, until her old boss, Lou, visits with news that he's found the real crook. Before he can reveal the details, though, Maggie finds his body right behind the pie shop.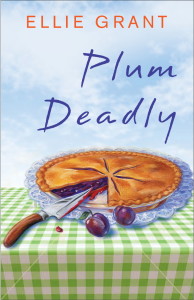 With only her own word that Lou planned to exonerate her, Maggie is in the spotlight. The police seem to suspect that Aunt Clara's damson pie may not be just dangerously delectable, but downright deadly. Maggie doesn't just have her own name to clear; she has to make sure that her aunt's beloved business isn't harmed, either. Yummy local reporter Ryan Summerour appears eager to help, and Maggie can't help hoping that it's not just the police who find her a person of interest—but Ryan, as well. She'd thought it challenging to make the perfect pie crust that Aunt Clara demands, but that turns out to be nothing compared with finding a murderer. . .
Who is Ellie Grant?
Ellie Grant writes award-winning, bestselling mystery fiction as themselves, J.J. Cook and Joyce and Jim Lavene. They have written and published more than 60 novels for Harlequin, Berkley, Amazon and Gallery Books along with hundreds of non-fiction articles for national and regional publications. They live in rural North Carolina with their family. Visit them at Ellie's website