Ask author Sayword Eller about Dr. Who or The Walking Dead and you're in for a conversation. The self-proclaimed "zombie nerd" just released her second book, Shadows, choosing to publish it herself rather than go the traditional road. Here's what she has to say about it…
What inspired you to write this book?
I have to be honest and say I don't remember. I began writing this book so long ago I can't think of a particular thing that inspired me. Of course, I don't typically work by inspiration, if that makes sense. I feel like I have a number of stories to tell and they step forward at random, wave at me, and say, "Hey, I'm ready."
Tell us a little about yourself.
I'm mostly boring. Lol. I've been married since I was seventeen and have spent the last eighteen years raising my children, making my marriage work, and writing when I can. I graduated from High Point University (shout out to my history peeps!) with my BA and attempted an MA. Maybe I'll finish that later… I'm an uber zombie nerd. I watch the Walking Dead religiously (as you know) and no matter where I go I always ask myself, what would you do if a zombie apocalypse broke out right now? I told you, NERD! I'm also a ghost fanatic. I believe in them and I love to read about them. So why wouldn't I write a book about one, right? I won't even go into my Doctor Who obsession!
You have such an unusual name. Can you tell us how it came to be?
In 1978, I am assuming just before I was born, my parents watched a mini-series with Elizabeth Montgomery and Hal Holbrook entitled The Awakening Land. Based on a trilogy of novels by Conrad Richter (The Trees, The Fields, and The Town), it is the story of a woman, Sayward Luckett, and how she (and her family) survived in the wilds of, and established a town in, the Ohio wilderness. My parents (mom, don't kill me for this) misspelled my name on my birth certificate, but this is my namesake. I've watched it twice (very good!) and have the first book in the trilogy (on my to-read list). Sayward Luckett was a strong woman and I am extremely proud to bear her name (even if it is spelled differently).
If the book was made into a movie, who would you want to play the leads?
Amy Adams for Victoria, definitely, and Owen Wilson. He's rumpled and adorable. I think He would make a great Marc.
Tell us about self publishing and why you went that route.
Another bout of honesty here. I just don't have the patience (or the time) to do all the research that you have to do to get into a traditional house. I've gotten so many rejections for Shadows and (more honesty) I just can't write a decent query letter to save my life! So what do you do when you can't "sell yourself"? I chose to self-publish. It's more difficult. I don't have a lot of money for marketing and, working 50 hours a week, I don't have a lot of time, but at least it is out there and available for those that may come across my FB post or my Twitter feed.
Any writing habits?
Write when you can! I've had serious writers block this year and am just coming out of it. I began a blog when I was in grad school, prompting365.com, in order to keep myself connected to fiction. The idea is to write a story every day from a one-word prompt. I haven't added one for months and am no where near 365, but I'm feeling a little creative lately, so it is quite possible that I will be adding new stories soon! When I'm not blocked I typically write on the weekends. Work keeps me pretty busy through the week!
Now that it's published, is there anything you want to change?
I'm sure that I will find typos (hopefully not too many!), but I don't think there is anything that I would change about it at this point. It is the story I wanted to tell and I am proud of it. Maybe there is one thing. I would change it from an obscure book to a bestseller! Then again, it's early yet!
From the back cover of Shadows:  All Victoria Gray wants is a little normalcy in her life. With her relocation to North Carolina, and her blossoming relationship with the very handsome Marc Peterson, she hopes to move on from the pain of her past, but that isn't likely to happen with a sullen dead girl hanging around. Reluctantly Victoria begins to awaken to the fact that she has developed the ability to communicate with the dead, and it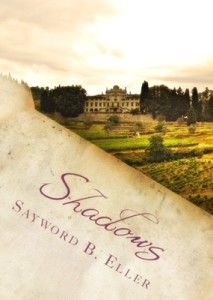 doesn't take her long to figure out that the girl haunting her is running out of time. As the pieces begin to fall into place Victoria uncovers long-buried secrets that someone wants kept no matter the cost. Will she be able to free the specter from her prison of purgatory? Or will the shadows make certain that she suffers the same fate?
Find out more about Sayword at her website saybeller, or connect through Facebook or Twitter
You can purchase Shadows at Amazon.com