Wink of and Eye will be released in 8 weeks. The editorial reviews are starting to come in. I got a good review in Publisher's Weekly. And a really good one in Library Journal. And for my non-writing friends,  if you don't know the importance of this—compare it to two thumbs up from Siskel and Ebert, or your kid getting A/B Honor Roll, or the teacher giving you the gold star for the day.  I'll admit I got the big head for a moment then there was a poopy diaper that needed changing and the school-age grands really did make A/B Honor Roll so the glory was short lived.
So anyway, part of the planning for this book launch and release is scheduling book signings. The stores I've spoken with have all been super excited and accommodating and their enthusiasm warms my heart. But then another problem presented itself. The more dates I filled in on my calendar, the more "book signing" outfits I was going to need.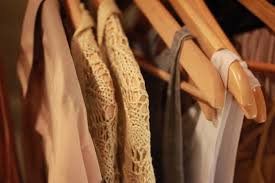 Since my primary day job is being Granny Nanny, my idea of "business casual" is either jeans or yoga pants. Tennis shoes, hiking boots, flip-flops. I really didn't want to do a book signing in yoga pants and a t-shirt stained with spaghettios. I needed a new wardrobe. And one of my favorite stores, Coldwater Creek, was closing its local store, and having a 70 to 90% off sale. $140 sweater for $7.00. Score! I spent about thirty dollars and came home with what I thought was my "book signing" wardrobe. The problem is I have more signings than outfits—and the signings are all local. I've had a lot of friends and extended family say they were coming to all the signings. And I'm like—yeah—well, don't. I only have three outfits so I'm going to have to rotate them. If you should come to all my local signings, chances are 1 in 3 you're going to see me wearing the same outfit. Again and again.
Oh what the heck—come on out! I'm not the formal type anyway. I'll wear my yoga pants if you'll wear yours.
And here's a partial list of confirmed signings. Mark your calendars!