Events & Fun Stuff
Upcoming events and appearances
September 9, 2017: Festival of Books 2017 / Bookmarks, Winston Salem NC. Look for me with the Triangle Sisters in Crime! Bookmarks
October 7, 2017: Mystery Authors To Die For! White Pine Book Store, White Pine TN, 2:00 P.M. – 5:00 P.M.  Mystery Authors To Die For
November 4, 2017: Author Open House, Archdale Public Library, Archdale NC 10:00 A.M. – 1:00 P.M.
_____________________________________________________________________________________
May 28, 2017: North Carolina Romance Writers Festival, Greensboro Public Library, 218 N. Church Street, Greensboro NC, 2 P.M. until 5 P.M.
May 13, 2017: Thomasville Public Library Author Fair, 10 A.M. until 2 P.M. 14 Randolph Street, Thomasville, NC
April 27 through 30, 2017: MALICE DOMESTIC! Bethesda, Maryland
April 22, 2017: Easter's Promise Family Fun Day, 500 E. Steeplechase Road, Pleasant Garden NC, 10 A.M. until 2 P.M.
April 8, 2017: Barnes & Noble, Mall Loop Road, High Point NC, 12 pm until
March 18, 2017: Foggy Pine Books, Boone NC 
February 7, 2017: RELEASE DAY!!! Tell Me No Lies official release and launch 
Jan. 17, 2017: Ava Logan – Visiting Detective at Kerrian's Notebook
Kerrian's Notebook – Ava Logan, Visiting Detective
---
2016
Saturday, October 8, 2016, 9am to noon, Archdale Public Library, Archdale NC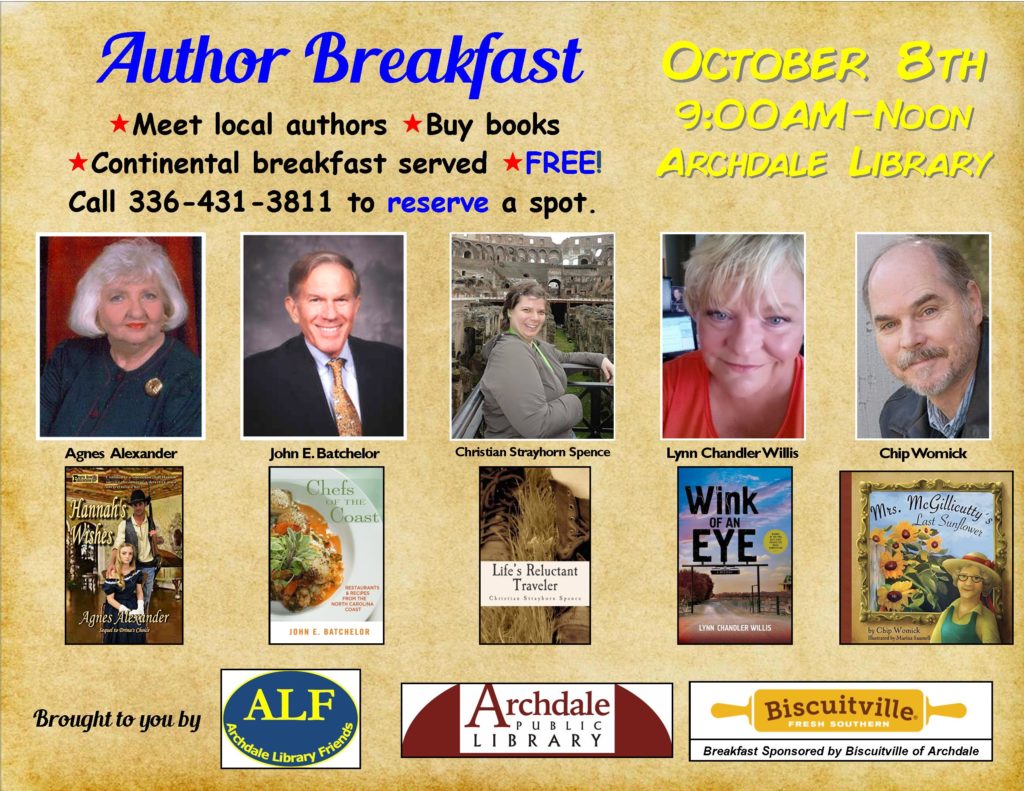 May 5, 2016: Sisters in Crime, Upstate SC Chapter. I'll be guest speaking at the monthly meeting and can't wait to spend time with this group! If you're in the Greenville, SC area, drop in!
May 19, 2016: Writers Talk, Asheboro Public Library 6:30pm-8:30pm. I'll be discussing the art of the mystery. If you've ever wanted to write in the mystery genre, you don't want to miss this discussion. Sponsored by the Randolph Writers.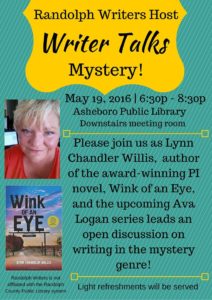 What Fun We had!
April 3, 2016: Did a podcast on Back Porch Writer with the delightful Kori Miller the other day despite a very scratchy throat. Give it a listen!
April 3, 2016: I was a guest on Pamela King Cable's new, updated blog and answered some great questions. What frustrates me about this crazy business? Read it to find out.
November 18, 2014 Wink of an Eye official release!
Scheduled signings:
Nov. 18, 2014 7pm, Barnes & Noble
3102 Northline Avenue, GBO B&N Greensboro
Nov. 22, 2014 2pm Barnes & Noble
906 Mall Loop Rd, High Point NC B&N High Point NC
Nov. 23, 2014 2pm Barnes & Noble
Alamance Crossing, Burlington NC B & N Alamance Crossing
November 30, 2014 3pm Scuppernog Books
304 S. Elm Street, Greensboro NC, 27401 Scuppernog Books
Dec. 4, 2014 7pm The Regulator Bookshop
720 Ninth Street, Durham NC The Regulator Bookshop
Dec. 6, 2014 2pm Books-A-Million, Charlotte NC
14151 Steele Creek Rd, Charlotte NC BAM #236
January 10, 2015 1pm Books-A-Million, Randolph Mall, Asheboro NC
February 20, 2015  7pm Coffee Exchange http://coffee-xchange.com/
108 Sunset Avenue, Asheboro, NC
624 Green Valley Rd, Greensboro NC
RESCHEDULED DUE TO SNOW February 25, 2015 6:30-8:30pm Greensboro Public Library Book Lovers Social
Central Library 219 N. Church St, Greensboro NC
March 12, 2015 6:00pm Book Lovers Social, GBO Public Library — see link above
May Memorial Library, 342 S. Spring Street, Burlington NC
Appearances
Women in Print, GTCC Jamestown NC
October 3, 2015 10am – 2pm  GTCC Jamestown Campus, book signing (books for sale on site), readings, panel discussions and more. 14 area women writers are participating!
Bouchercon 2015, Raleigh NC
October 8 – October 11. I'm honored to be participating on a panel, Thursday Oct. 8 at 11:30am called True Criminals/True Detective. Then, on Friday evening, October 9, I'll be attending the Shamus Award Banquet as a nominee. Wink of an Eye is a finalist in the Best 1st PI Novel category and is surrounded by some really good books. Fingers crossed!
check back often as Spring dates are confirmed
Interviews
Nov. 12, 6:30pm, WCLM 1450 Radio
Nov. 25, 2014 Washington Independent Review of Books Q & A
Jan. 15 News & Record Overnight sensation
Blog Appearances
Fun Stuff