I haven't posted in a few weeks because I've been on tour. You know, the book tour. It's taken me to far-away places like Burlington, Graham, Asheboro, Durham, Raleigh, Greensboro and Charlotte. And Mebane. Can't forget Mebane. I even graced the lobby of the O'Henry Hotel, a swanky place in Greensboro. You may be thinking Burlington as in Burlington, Vermont. Or that Graham is the town in Texas, or Arizona. True – there are towns in those states with those names. Of course there are also towns in North Carolina with those names, too. Guess which towns I visited?
My travels with that Private Eye named Gypsy may not have taken me across the country, or even the state line, but I have learned some valuable lessons so far. Like no matter how important you think you are, someone will always misspell your name.
Not once. Not twice. Not even three times. Four times. Yep, four times my name was misspelled on publicity posters and press releases. The posters even had a picture of the cover of the book with my name spelled correctly, yet the graphic artists apparently didn't make the connection. The host bookstores were horrified when they learned of the mistakes, but I assured them it was all well and good.  Keeps one humble.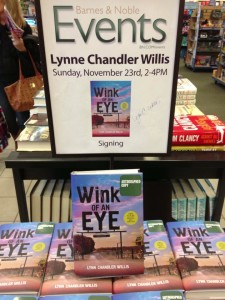 At one of the smaller, independent bookstores, I sat in the cafe prior to the reading/signing sipping on a $4.00 cappuccino I paid for chatting with the store owner/manager. When the start time for the event rolled around, the owner shook his head and said "looks like the author is a no show." Yes, the publicity flier they had posted in the cafe, on the store window, at the register had my picture on it. But they had my name spelled right.
I was second billed at a book fair with 20 other authors. Rather impressed with that one. Until I realized I was the only author present who wrote genre fiction. Me and Gypsy—right smack in the middle of the poets with their chap books, MFA grads with their literary short story collections, and non-fiction authors pushing their photo-heavy "travels with" books. But me and Gypsy sold right many books so maybe there were closet genre readers in the crowd.
And then there was the cheese guy. it was at the same book fair with the literary minds. The host staff waiters and waitresses worked the crowd, offering trays of gourmet delectables. Everything looked so yummy, and carb rich. I noticed one of the other authors asked a waiter if they could perhaps bring something a little less carb heavy. She got a beautiful cheese tray so I followed suit and asked for the same. The waiter was happy to oblige and brought me a gorgeous marble tray with two different chunks of cheese, a variety of crackers, grapes, and warm pecans rolled lightly in confectioners sugar. Oh my! A nibble here, a nibble there…and I was wondering if it would be, like, really tacky to wrap what I hadn't eaten in a napkin and stuff it in my bag to take home? But I never got the chance.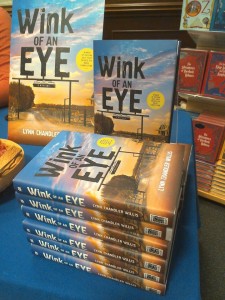 It's kind of an unwritten "rule" at signings, book fairs, etc…to place your snacks or drinks in a corner of the table, behind a stand-up poster of some sort so your bag of Doritos and Diet Dr. Pepper aren't on public display. Well, my cheese tray was behind my stand-up poster of Wink of an Eye, clearly out of public view, and totally understood for my consumption only. At least I thought so.
So I'm standing there behind my table chatting up a closeted mystery reader and this guy—a middle aged guy so it wasn't like he was a kid—comes around behind my table and starts helping himself to my cheese. He even asked me where the knife was since the cheese was in chunks—a clear indication is was for one person and one person only. I was a little shocked so barely squeaked out that they didn't bring a knife. Wait for it…it gets better. The man whips out his pocket knife and starts carving up my cheese! He helps himself to most of it and picks through the warm, sugar coated pecans for the better ones. He then went on about his merry way.
Sigh. Keep it humble, folks. You never know when they'll misspell your name or steal your cheese.