Yes, that Michael Connelly. He of Harry Bosch fame. The Lincoln Lawyer…yeah you know the guy. Mr. Connelly was the guest speaker at the 2014 Writer's Police Academy and I was stoked to meet him. Was planning on carrying a couple of his books that I own with me to the Saturday night banquet and ask him to sign them.
Spent good money on a banquet ticket when I registered for the academy fully expecting to enjoy the crap out of the chicken dinner and gourmet dessert.
But something came up. Death in the family? That might be understandable, but no, everyone is still living and breathing. Wedding I was obligated to attend? Not to my knowledge. A virus that came on suddenly that I didn't want to spread? Nah. It was an 11-year old's text message that changed my plans.
Grandson Landon's 11th birthday was September 3rd. Trying to plan his birthday party was like trying to plan a military operation. This friend could come if the party was Labor Day weekend but that friend couldn't; that friend could come the next weekend, but those friends couldn't. And the weekend after labor Day…was the Writer's Police Academy so Grandma couldn't be there. But—I told Nina to go with it. Plan it when his friends could be there, not his grandma. He is, after all, getting to that age where his school buddies are important to him.
So his party was set for Saturday afternoon with some swimming, a cookout, and laser tag. Just family and three or four of his friends. But anyone who reads my posts on a regular basis knows "just family" constitutes about 30 people. And that's immediate family.
I hated I was going to miss it, but…Michael Connelly!
At registration Thursday night, I get a text from Landon thanking me for my gift. Sweet. I'm sitting there among friends and peers all talking about everything writing and I'm floating on cloud nine. When you spend twelve hours a day talking to toddlers, you welcome any adult conversation and to have that conversation centered around the writing business, it was pure heaven.
But I kept going back to Landon's text. It would be the first party I would miss.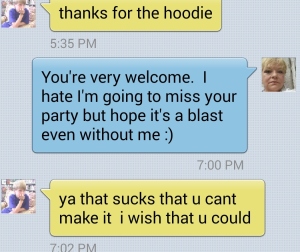 All day Friday during the classes and at the reception that evening, I mingled a little but I felt off my game. Couldn't shake the feeling something just wasn't right. I had a competition-winning book being released in two months by one of the major publishing houses and I barely mentioned it. I had postcards promoting the book—they're still in my bag.
On the way home Friday night it dawned on me what the problem was. While there at the academy among my peers, I might have been where I was supposed to be—but my heart was where I needed to be. I decided then I'd skip out on the Saturday night banquet for hot dogs and birthday cake. One of the advantages of living thirty minutes away from the host hotel—I was never very far from home.
Whether I was at the banquet or not probably made little difference to Michael Connelly; but my presence at an 11-year old's birthday party made a difference to me and Landon.