Facebook didn't exist when my kids were little. Mark Zuckerberg didn't exist when my kids were little. Nor Instagram or Snapchat or Twitter. I don't remember scheduling "play dates" for my kids. They played with one another and/or the neighborhood kids. I don't remember anything called Mommy's Morning Out or any other 'mommy group'.
Sure, there was always that mom in the neighborhood, or at school, or at church who kids' poop didn't stick.  Their kid walked when they were 6 months old! Was potty trained before they were two! Had a three-thousand word vocabulary before their third birthday. Could even read on a second grade level before kindergarten. And were so darn cute, their moms were looking at modeling agencies.
Yeah, if you're a mother, you've probably experienced the mother of all mothers. And not only was it their job to raise the perfect kid, they took on the added responsibility of letting you know what you were doing wrong. In subtle, snarky remarks, of course.
Those moms still exist and, lucky us, social media has made it so easy for them to share their perfect worlds. Their perfect nurseries. Their perfect homemade, organic lunches. Their neatly arranged educational toy bins.
More power to you, perfect mom. But I'd be willing to bet there are a heckuva lot more 'average' moms out there than there are perfect.
Young mothers these days are putting way too much pressure on themselves. Every mother starts out with the grand goal of being perfect. No one wants to be 'average'. But sometimes, this little thing called reality, gets in the way. That perfect nursery will have crayon marks on the perfectly painted walls and, unless you're an odor shaman, will smell like pee or poop. The precious little ones will turn their cute little noses up at the thought of a homemade, organic lunch once they get a taste of cheese doodles and brownies. And those educational toys – just wait until they see a Tonka truck, or gads! – a toy gun. And for those mothers who actually have more than one child, kids fight. A lot. They can be mean little snots. Yes – you're perfect kid may have a mean streak. Deal with it. And, funny as it seems, the meanest kids usually have the most perfect mothers. So there's your motivation to bypass perfect and aim to be average.
Average moms have a collection of mismatched tiny socks hidden under couch cushions, behind the bookcase, and stuffed in the toy bins. Sometimes even stuffed inside the toys. Their kids eat cereal for lunch. And sometimes supper. And sometimes on the same day. They eat pizza and hot dogs cut into tiny triangles. And they eat a lot of chicken nuggets. They will have more fun with the box a hundred-dollar toy came in than the toy itself, so save yourself the money.
And if you have more than one, call in reinforcements for the big stuff. I went to the beach last weekend with Nina and Allen. With three toddlers, even the simplest of activities takes some planning. Allen and Landon went with Nina's dad and half-brother out on the boat one day. Nina and I were going to take the three toddlers and Ava to the pool. Then we realized both of us would have to be in the pool at all times holding one or two kids at the same time. So we settled for going to the beach instead, where we figured the kids could at least play in the sand. After parking, only one problem with that…we had to cross the street to get to the shore. Three toddlers, a seven year-old, two bags of towels, fruit snacks, and sippy cups, and two chairs.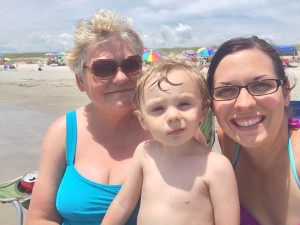 That was an accomplishment. Here's to the average mom.