Remember when you worked a job where you were given a week, two weeks, maybe more each year for vacation? Some jobs even gave you a certain number of sick days, or personal time as some call it. Remember when you punched a time clock? Or signed your name at the end of the week to a time sheet?
You went to work. You worked. You clocked out and left work at the end of the day. Life was simple.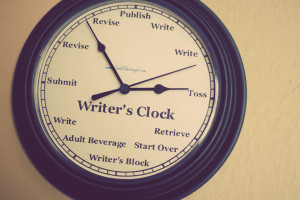 And then you became a writer.
There is no time clock to punch. No scheduled vacation, sick days, or personal time. There is no time "off". Why? Because if you're really a writer, a true creative soul, there is no down time. You can't shut off your inner self.
I worked at the local television station for a couple of years when my kids were small. I worked in the studio production department for the six and eleven o'clock news. It was a fun job but it ruined my ability to ever simply "watch" a television show. Or even see a movie for that matter. My mind is not only following the story, but I'm critiquing the lighting, the camera work, the background music, etc…
When I am able to stop thinking about the actual production of the show, I'm thinking ahead of the plot—the writer in me won't let the show just unfold—I'm three scenes ahead.
One of my favorite television shows is "Justified". The acting, writing, direction, story lines, everything about the show is take-your-breath-away perfection. The second and third season featured the Bennett family—and I, ever the sucker for a great character, fell head over heels for Dickie Bennett (expertly played by Jeremy Davies). The character was so well written and acted, Dickie Bennett became somewhat of an underdog one might actually find a ping of sympathy for. And the whole time I'm crying for Dickie Bennett, I'm wondering why? Why—because although I'm fully engrossed in the show, there's a part of my brain going "Wow! What a character! I wish I could write a character like that!" So I'm back to working.
It's the same with a book. Fellow writers—do you ever wish you could just pick up a book and read for the pure joy of it? Or are you working when you read? I study the style, the dialogue, the pace…and sometimes, it drives me nuts! Because there I go, working again.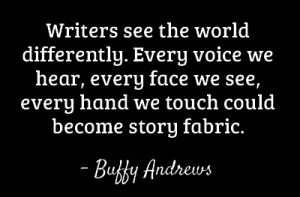 I took Sam for a walk today around the block. Great being outside in the fresh air, away from the laptop, away from the pen and paper, away from the cell phone. Just me and Sam—and a thousand characters running around inside my head. Scenes played out, dialogue was spoken, opening lines were toyed with…a simple walk turned into a working break.
And then there's social media. As writers, a lot of our books' success or lack of can be traced to social media and how the book is "marketed" on such. So each time I sign on to Facebook, am I working?  Each tweet I send, am I working? Yes. I'm building and nurturing a relationship with readers. Sorry—playing Candy Crush probably doesn't count.
So I'm going to wrap this up so I can go watch the Superbowl. I like the commercials. Advertising at its best. I'm always fascinated by the production that goes into some of the spots, the quick and to-the-point message delivered in thirty seconds, the words used to…oh darn. There I go again. Working.