A big welcome to author Clare Revell! Clare's latest novel, Thursday's Child, (Pelican Book Group) released Friday, July 5th and with the recent tragedy involving the nineteen firefighters in Arizona, her book couldn't be more timely.
From Clare: Heroes come in all shapes and sizes. From soldiers to sailors to firefighters and police officers. From pastors to teachers to fathers.
And now, from her Monday's Child series comes the latest installment— Thursday's Child.
Monday's Child must hide for protection,
Tuesday's Child tenders direction
Wednesday's Child grieves for his soul
Thursday's Child chases the whole
Friday's Child is a man obsessed
Saturday's Child might be possessed
And Sunday's Child on life's seas is tossed
Awaiting the Lifeboat that rescues the lost.
Meet Jared Harkin. Firefighter. Husband. Father. A man with a deeply troubled personal life, yet still puts his life on the line every day to save others.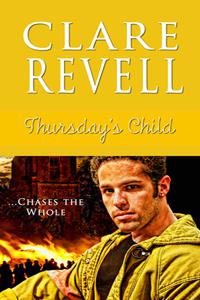 Thursday's Child chases the whole…
Broken…with bits missing. That's how Niamh (pronounced Neeve), senior prosecutor for the CPS, feels when she wakes in a hospital severely injured with no knowledge of what happened–for the past ten years. A tall man in a firefighters uniform claims he's her husband. While he's everything she's ever dreamed of in a man and more, she doesn't know him. And if he was so important why can't she remember? Was there something so terrible, so painful in her marriage, her mind has suppressed it?
First on the scene at a horrific accident, Jared Harkin is devastated to find his wife one of the injured. He's already lost a child, can he live through this? Niamh survives the crash, but awakens with ten years missing and no memories of their life together. Determined to help her remember the past and their love, he sets about wooing her all over again. But are some things best forgotten?
As Niamh struggles to remember, the investigation into the accident reveals foul play. Did her recent caseload have anything to do with the attempt on her life? Or was it someone closer to her? As bit and pieces of memory return, the attacker strikes again. Can she piece together the whole of her past before it's too late?
An exert from Thursday's Child…
Jared shouldered the gear. "Don't mention it." He headed towards the smashed vehicles, the oil and petrol from shattered engines and tanks, mixing with the rain water. Other firefighters started running out hose having considered the high risk of fire. He could hear them talking and equipment buzzing, the normal sounds of a shout mixing with what he knew he had to do.
He got closer to the red car. The woman lay slumped over the steering wheel, black hair stained red with blood. He looked at Steve. "Did you bring the trauma care kit?"
"No."
"Go get it. That way we can start treating her until the paramedics arrive."
Steve nodded and ran back to the fire engine. Jared smiled and then moved closer to the car. Though the teeming rain he could make out the start of the number plate in the tangled wreckage. ROO. The rest of the plate was torn off.
It's the same as Niamh's. Don't be silly. There are probably a thousand red cars that start ROO, if not more than that.
He got closer and suddenly the Station Manager, Brad Peters was there, blocking his path. "Jared…"
Jared looked at him. The look on the Guv's face said it all. Oh, God, no, please… "Guv?"
"I'm sorry. It's Niamh."
Nausea and sheer panic filled him. Dropping the equipment to the ground, Jared moved as if in fire or lime. Everything slowed down, voices and sounds echoing. He shook off the arm that held him, his whole being determined to get to her, his eyes fixed on the wreck. Somewhere in that tortured and twisted hunk of metal was his wife.
"N-n-n-i-i-a-a-m-m-h-h-h."
**END EXERT**
To purchase Thursday's Child, go to: http://www.pelicanbookgroup.com/ec/thursdays-child
To celebrate the release of Thursday's Child, we're giving away two print copies and two e-book copies! All you have to do to enter is leave a comment. All names will go into a hat and the winners drawn randomly on July 12th. Good luck!
About Clare Revell:
Clare lives in a small town in England with her husband, whom she married in 1992, and her three children. Writing from an early childhood and encouraged by her teachers, she graduated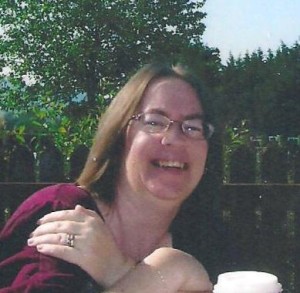 from rewriting fairy stories through fanfiction to using her own original characters and enjoys writing an eclectic mix of romance, crime fiction and children's stories. When she's not writing, reading, sewing or keeping house or doing the many piles of laundry her children manage to make, she's working part time in the breakfast club at one of the local schools. She has been a Christian for more than half her life. She goes to Carey Baptist where she is one of three registrars.
She can be found at: http://www.revell124.plus.com/clarerevell/  https://www.facebook.com/ClareRevellAuthor, https://twitter.com/ClareRevell
Other titles by Clare Revell: Season For Miracles, Saving Christmas, Cassie's Wedding Dress, Time's Arrow, Kisses From Heaven, After The Fire, An Aussie Christmas Angel, Monday's Child, Tuesday's Child, Wednesday's Child, and Thursday's Child.