I've worked in the corporate world (hated it!), the television industry (fun job), the newspaper industry (burnt out), and even at a daycare center (stayed sick the entire time).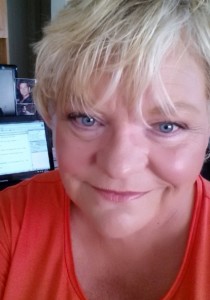 As far as writing goes, I am the author of best-selling true crime, Unholy Covenant (Addicus Books 2000), inspirational mystery/suspense novel The Rising, (Pelican Book Group 2013) and private eye novel Wink of an Eye, releasing Nov. 18 2014 from Minotaur Books. Wink was chosen as the winner of the 2013 Minotaur Books/Private Eye Writers of America Best First PI Novel Competition. I am super proud to say I am the first woman in 10 years to win the contest. My WIP is Nobody's Baby, a story I can't wait to share…
And for the rest of the stuff…I have two adult kids with great spouses who have blessed me with nine grandkids. They give me a lot of material.
I was born, raised, and continue to live in the heart of North Carolina – within walking distance to the kids and all the grands!
I share my home and couch with Sam the cocker spaniel. He reminds me it's okay to sometimes just sit and watch tv.
I believe in what if?
I believe in the power of the kitchen table. Life and death decisions have been made around many.
I believe sometimes bad things happen to good people, and sometimes good things happen to bad people.  Wondering why that is will get you no where. Accept it and move on.
Often things aren't what they seem. I like peeling back the layers, uncovering the mystery, page by page.
Feel free to drop me a line at lynn@lynnchandlerwillis.com